From Eeyore Stuffed Animals To Eeyore Watches To Eeyore Clothes…
Eeyore has been an icon since he first appeared in A.A. Milne's Winnie The Pooh series of books.
Today you can get not only Eeyore stuffed animals but also Eeyore clothes, Eeyore jewelry and a whole host of other Eeyore products. That little donkey is everywhere!
If you like the in Eeyore poster to the left,
you can get it here from Zazzle:
Eeyore Poster
Eeyore Stuffed Animals
Eeyore is so adorable that how can you not just want to squeeze him. These cute stuffed toys are very squeezable. Also, they come in a variety of sizes. The two on the left are a bit smaller and the one on the right is quite large. He's big enough for bear hugs.
Kids Preferred Disney Plush, Eeyore
Disney Baby: Eeyore Large Plush by Kids Preferred
Disney Eeyore Stuffed Animal, Large – 20 Inches
---
An Eeyore Collection Of Sayings
Some Words Of Wisdom From Eeyore
A little Consideration, a little thought for others, makes all the difference.
Nobody tells me. Nobody keeps me informed. I make it 17 days come Friday since anybody spoke to me.
One can't complain. I have my friends. Someone spoke to me only yesterday.
Thanks for noticing me.
They're funny things, accidents. You never have them till you're having them.
This writing business. Pencils and what-not. Over-rated, if you ask me. Silly stuff. Nothing in it.
I don't hold with all the washing. This modern Behind-the-ears nonsense.
---
Eeyore Watches
How about a little Eeyore on your wrist. Here are three cute watch styles that feature him.
Disney Eeyore Tutone Watch
Disney Men's Eeyore Cardiff Watch
Disney Pink Croco Musical Eeyore Watch
---
Play A Game With Eeyore

Sort My Tiles Tigger and Eeyore
Click here to play this game
---
Eeyore Jewelry
Eeyore makes for good jewelry too. Here we have him adorning a necklace and a key chain and as a charm for a bracelet or necklace.
Disney Eeyore Pewter Keyring
EvesErose(TM) High Quality Silver Eeyore Donkey Sterling Bead Charm Fits EvesErose, Pandora, and Similar Bracelets
Walt Disney's EEYORE Character Metal/Enamel PENDANT on 18″ Chain
---
Eeyore Stars In "Donkey For A Day"
Here's a cute cartoon featuring Eeyore. Take a break and watch for a minute. It's sure to make you smile.
---
Eeyore Clothing
You can get Eeyore on a shirt too. These are available in different styles: for men, for women, on sweatshirts. Click any design to see the different styles.
---
Eeyore Coffee Mugs
The cute little guy on these mugs will help you wake up when you have your coffee in the morning. He'll make sure you start your day off with a smile.
---
What Color Is Eeyore?
In the A.A. Milne books about Eeyore and all of the other residents of the 100 Acre Wood, the illustrations were done by E.H. Shepard. In those illustrations, Eeyore is grey. Also, Milne refers to Eeyore as "the old grey donkey."
When you see Eeyore in cartoons or portrayed as a toy, he is often blue.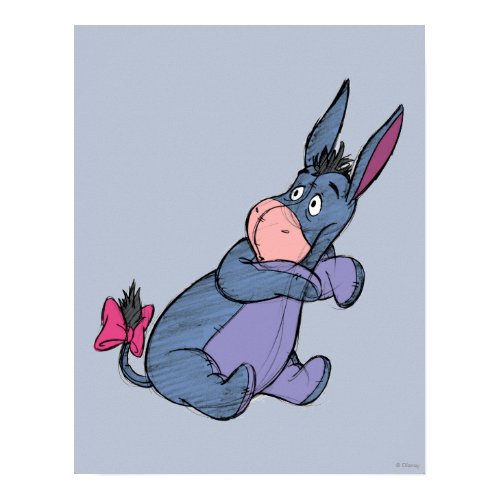 Blue Eeyore Poster
Grey Eeyore Poster
So which is it?
---
"Thanks For Noticing Me…"
Thanks for stopping by my page. I hope you enjoyed yourself and found something of value…
---
You Might Also Like...